Johnny Depp

Captain Jack Sparrow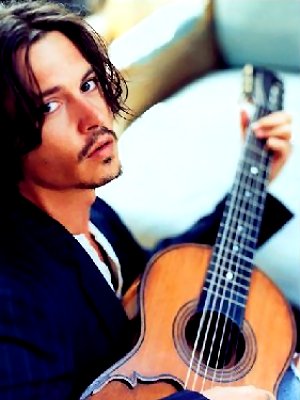 Full name: John Christopher Depp II
Nicknames: "Mr. Stench" which is self-chosen
Birthdate: June 9th, 1963
Height: 5'10"
Weight: 155 lbs.
Parents: John Christopher and Betty Sue Palmer
Siblings: Danny, Christy, and Debbie
Pets: Unknown
Hair color: Brown
Eye color: Brown
Marital Status: Lori Anne Allison (1983-1985), divorced. Has 2 kids with girlfriend Vanesa Paradis.
Fun Facts:
In January of 1999 he was arrested for being in a fight with paparazzis in front of a restaurant.
Arrested for trashing a New York apartment in 1994.
Has 3 ex-fiancees: Sherilyn Fenn, Jennifer Grey, and Winona Ryder
Was the guitarist in a band called "The Kids"
He is currently playing in a band called "P"
Appears in Tom Petty's 1991 music video, "Into the great wide open"
He also has a song about him by Wesley Willis.
He has houses in France and Los Angeles.