Orlando Bloom

Will Turner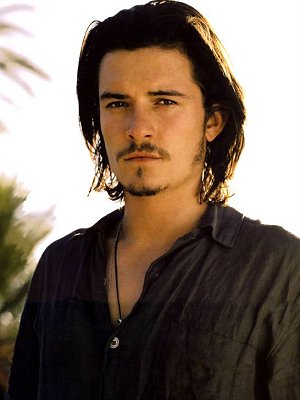 Full name: Orlando Jonathan Blanchard Bloom Thanks to Tamara and many others for Orlando's middle names
Nicknames: Orli and OB
Birthdate: January 13th, 1977
Height: 5'11"
Weight: 148 lbs.
Parents: Harry and Sonia Bloom. Harry died when Orlando was four, and when Orlando was thirteen, his mother told him that Harry wasn't his biological father: a family friend named Colin Stone was. Thanks to Star and Luthien for this fact
Siblings: An older sister, Samantha
Pets: He had a dog named Maude, but he left her in an ex-girlfriend's care while shooting LotR. He still visits Maude, but he got two new stray dogs, Siti (pronounced "city") and Guero, while filming Kingdom of Heaven. Thanks to Nienna, Luthien, and Star for thess facts
Hair color: Dark brown
Eye color: Brown
Marital Status: Some say he's dating actress Kate Bosworth ("Blue Crush" and "Win a Date With Tad Hamilton!") and is ready to propose, but others say that the two broke up, pretended to be together for publicity purposes, and "broke up" again.
Fun Facts:
Used to smoke but quit in 2002.
Bites his nails.
Some of his hobbies are skydiving, bungee jumping, paragliding, surfing, snowboarding, photography, shopping and buying old antiques.
Broke his back, ribs, nose, both his legs, arm, wrist, a finger, a toe and cracked his skull 3 times. Also popped his knee on set of "Pirates of the Caribbean".
Speaks French
Favorite colors are yellow and green
Originally audtioned for the role of Faramir in "The Lord of the Rings" instead of Legolas
During the LotR shoot, Viggo Mortensen (Aragorn) was forever calling Orlando "Elf-boy" Thanks to Grace for this fact
Trained on nearly 20 horses for LotR, but still fell off the chosen horse and broke a rib
Convinced 7 out of the other 8 fellowship members in LotR to get a tattoo of the Elvish symbol for 9
Had to shave the back of his hairline for the role of Legolas, so he decided to go further (at the advice of Liv Tyler, who has flirting with him throughout LotR filming) and shave off both sides completely: underneath the blond wig is a black Mohawk haircut.
Can't stand computers Thanks to OrliGirli for this fact
Is a vegetarian and stays away from dairy products Thanks to OrliGirli for this fact
Favorite football team is Manchester United Thanks to OrliGirli for this fact
Admires Johnny Depp, Daniel Day-Lewis, and Edward Newton Thanks to OrliGirli for this fact
His career choice was inspired by a girl he had a crush on when he was nine. He thought he could win her over if he could fly like Superman, but when he found out that Superman was an actor, he decided that acting was for him! Thanks to OrliGirli for this fact
Is dyslexic Thanks to iluvorli for this fact
Learned to surf in New Zealand while filming LotR Thanks to little_arwen for this fact
Does not read magazines Thanks to Sian Pham for this fact
One of his obsessions is socks. He says that he has yellow, green, red socks - even ones that glow in the dark Thanks to Star for this fact
Found out that he got the part of Legolas just two days before graduating at Guildhall, his acting school. Thanks to Star for this fact
His mother, Sonia, is a language teacher, and named Orlando after writer Orlando Gibbons. Thanks to Luthien for this fact
His first job was as a clay trapper at a pigeon shooting range
Is scared of pigs. When a pig escaped on the set of Kingdom of Heaven, Orlando turned and ran in complete terror. Thanks to Nienna for this fact